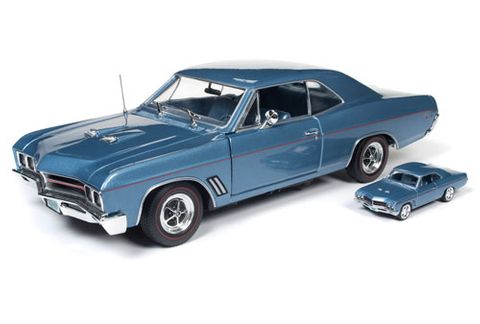 Autoworld 1:18 1967 Buick Gt Ht W/64 Scale *D
DR2AMM1115
Description
Back in the 1960s, Buick® used the Gran Sport™ name on several of its performance-based luxury muscle cars. For 1967, the Gran Sport™ name was replaced simply with GS™, as it became a standalone model in the Buick® lineup. It utilized a brand new 400ci V8 producing 340 hp and 440 lbs.-ft. of torque.
The GS™ 400 was a good balance of luxury and performance for the gentleman muscle car enthusiast. It wasn't flashy with racing stripes or large braggadocios badging, but with throaty notes it gripped the pavement with 0-60 mph in 6.5 seconds. The distinguished man on his way to the office could lay down a 1/4 mile in just over 15 seconds.
Auto World has replicated this top-end Buick® in Sapphire Blue paint with blue interior in both 1:18 AND and an exclusive True 1:64 scale!
FEATURES:
Detailed Engine
Steerable Front Wheels
Accurate Interior and Chassis
Opening Doors & Hood