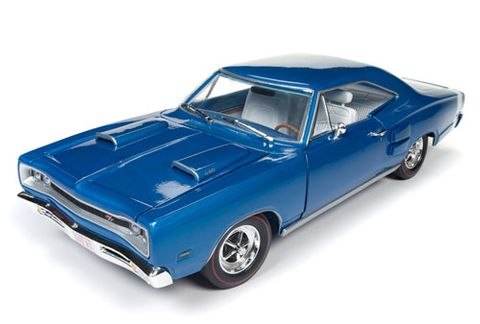 1:18 1969 Dodge Coronet R/T HT *D
DR2AMM1116
Description
In 1967, the R/T performance package debuted on the Dodge Coronet. Meaning Road/Track, it conveyed a car that could be driven or raced. The standard engine was the large 440ci V8 and other performance options.
In 1969, with the introduction of the Dodge Super Bee Six Pack and the popularity of the Dodge Charger, the 1969 Dodge Coronet R/T didn't garner as much attention as it deserved. However, with a standard 440ci Magnum 4-bbl engine, Ramcharger induction package, redesigned grill and tail lights, the Dodge Coronet R/T was every bit as powerful and stylish as its Dodge siblings.
Auto World has replicated the 1969 Dodge Coronet R/T in factory B5 Blue Iridescent with white bee stripe. For the first time, it features our NEWLY-TOOLED M46 side scoop option! Under the hood is an incredibly detailed 440 Magnum powerplant.
FEATURES:
Detailed Engine
Steerable Front Wheels
Accurate Interior & Chassis
Opening Doors & Hood