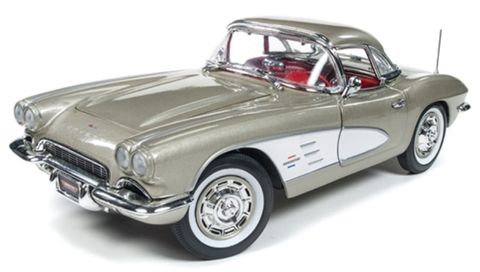 Autoworld 1:18 1961 Chevrolet Corvette Con *D
DR2AMM1151
Description
1961 Chevrolet Corvette Convertible in Fawn Beige - MCACN
• Opening Doors & Hood
• Detailed Engine
• Steerable Front Wheels
• Accurate Interior and Chassis
• Heavyweight Die-Cast Metal
Roger Schmidt's Fawn Beige 1961 Chevy® Corvette® with white cove and red interior is a rare color combination. From the factory, only 358 were painted two-tone Fawn Beige and white. Adding to its rarity, a fraction of those had the red interior option!
Roger has owned this car since 1989. He and his dad put over 2000 hours into meticulously restoring the mechanical components before bringing it back to life in 1992!
After meeting Roger at the 2017 MCACN, photographing his car, and hearing his story, Auto World is honored to replicate this award-winning Corvette® in factory-matched paint, red interior, and 230hp 283ci engine.