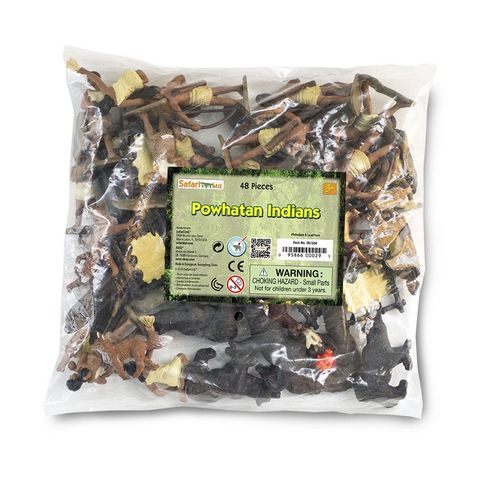 Safari Ltd Powhatan Indians Bulk Bag *D
SAF761504
Stock Level:
Out of Stock
Description
48 Pieces Per Bag. Contents Cannot Be Purchased Individually. Discover the brave tribe of Chief Powhatan and his daughter Pocahontas with our Powhatan Indians TOOB®. Did you know the Powhatan are Native American people who lived in Virginia? Learn more about history with our Toys That Teach®!
Characteristics: This Bulk Bag includes 48 total pieces. There are 12 unique designs, featuring six different Powhatan Indian figures including Pocahontas, three different animal styles (bear, fox and deer), and three accessories (dugout canoe, fire, and deer hide).
Size and Color: Bag Size: 8 inches by 7.5 inches. Figurine size: 1.5 inches to 3 inches. Coloration is mostly browns and earth tones, with some black and white accents, and orange for the fire.
The Powhatan Indians Bulk Bag is part of the Bulk Bags collection.
All of our products are Non-toxic and BPA free
Bulk bags feature our most popular TOOBS® figures in 48-piece bags. These individually hand-painted miniature replicas are characterized by vibrant colors and accurate detail. They are a favorite among educators and parents, who use our many themed TOOBS® to bring lessons to life through imaginative play. The curated pieces make excellent teaching aids and diorama accessories!
NATIVE VIRGINIANS - The Powhatans were a collection of native tribes who lived in what is now eastern Virginia. They were some of the first Native Americans encountered by colonists and were written about extensively by English explorer Captain John Smith. The most famous Powhatan is undoubtedly Pocahontas.
Go back in time with our Powhatan Indians bulk bag!
Recommended Age: 3+
Size in cm: 20.5 W x 19 H
Size in inches: 8.07 W x 7.48 H
UPC: 095866000295