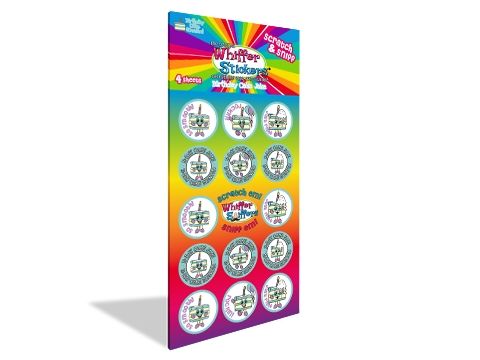 Whiffer Sniffers Birthday Cake Jake Sticker Pack
WF316055
Description
The Birthday Cake Jake Sticker pack has a yummy birthday cake scent! The sticker pack includes 4 sticker sheets with 15 stickers per sheet, That's 60 stickers total! This sticker pack includes a bonus custom Whiffer Sniffer craftable to cut out and craft!
BIRTHDAY CAKE JAKE
Birthdays are his namesake… he's the life of every party. He's never known to pass up a slice of sweet birthday cake, and his laughter's loud and hearty. When Jake arrives, your party is sure to be lit. Every celebration with Jake is a total hit
Recommended for children 3 years and older.
Size: 9 x 4 in
Stickers are 1 inch wide
Whiffer Sniffers are child safe, they conform to all applicable US CPSC (Consumer Product Safety Commission) safety standards. In addition, all of the fragrances used in Whiffer Sniffers are produced in the USA, and conform to IFRA standards for fragrances in toys. They are recommended for children 3 years and older.