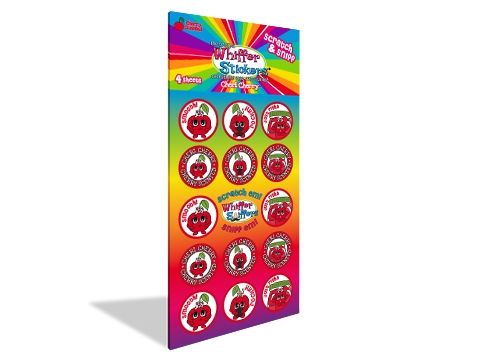 Whiffer Sniffers Cheri Cheri Sticker Pack
WF316060
Description
The Cheri Cheri Sticker pack has a yummy cherry scent! The sticker pack includes 4 sticker sheets with 15 stickers per sheet, That's 60 stickers total! This sticker pack includes a bonus custom Whiffer Sniffer craftable to cut out and craft!
CHERI CHERI
This popular girl loves all things flavored cherry. To her, any other flavor is just too ordinary. So, from lip gloss to dental floss, Cheri's friends can attest that Cheri prefers cherry; it absolutely is the best! The one thing about Cheri that her friends like most of all, is that if they ever need to talk, she's the first one they can always call.
Recommended for children 3 years and older.
Size: 9 x 4 in
Stickers are 1 inch wide
Whiffer Sniffers are child safe, they conform to all applicable US CPSC (Consumer Product Safety Commission) safety standards. In addition, all of the fragrances used in Whiffer Sniffers are produced in the USA, and conform to IFRA standards for fragrances in toys. They are recommended for children 3 years and older.