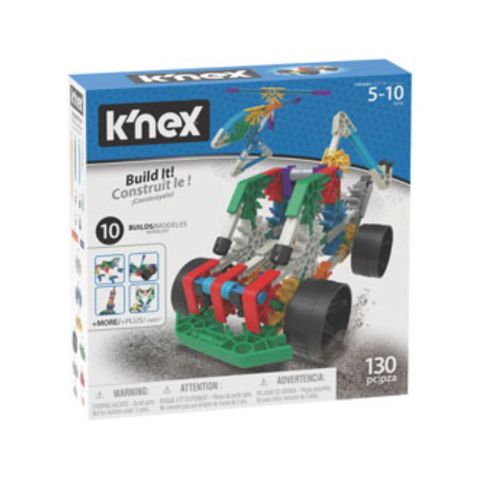 K'NEX BUILD IT SET 10N 130 PIECES
KNEX15216
Description
The KNEX Build It Set comes with 130 multicoloured pieces and can be built creatively into 10 different forms designed perfectly for little hands! This set comes with colourful plastic rods and connectors that snap together with a simple "click" among other parts to let your child bring a real working vehicle and moving structures like a quadcopter, a tow truck and even a frog to life! Aid your child in developing skills essential to their growth like hand-eye coordination while improving their creativity by having them build the K'Nex 10 in 1 Building Set!
Features:
K'Nex 10-in-1 Building Set comes with 130 large pieces including plastic rods and connectors among other building pieces as well as an idea sheet to give them an idea of what form to build.
Can be built into 10 different forms!
Allows children to design, construct, and customise their own models and have endless hours of educational play.
Suitable for children from ages 5 to 10 years old.
Let your child enhance their capabilities when it comes to problem-solving and spatial intelligence while helping them develop fine motor skills when building the K'Nex 10 in 1 Building Set.