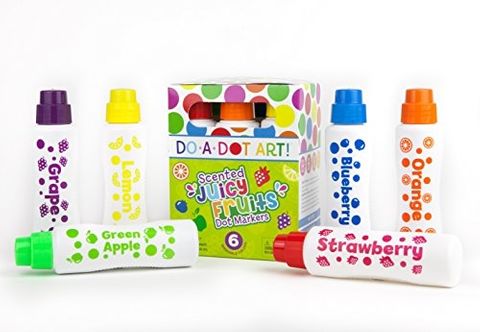 DO A DOT ART JUICY FRUITS MARKERS 6 PACK
DAD202
Stock Level:
Out of Stock
Description
DO A DOT ART MARKERS JUICY FRUITS 6 PACK
THE ORIGINAL DOT MARKERS THAT ALL THE KIDS LOVE just got sweeter! Our NEW Juicy Fruits Scented dot markers come with 6 smell good flavors. Strawberry, Orange, Lemon, Green Apple, Blueberry, and Grape!
MADE IN THE USA. The brand that parents and teachers have trusted for 25 years. Our products are made exclusively in the USA in our factory where quality and safety come first. All of our markers are NON-TOXIC and use only the highest quality materials to ensure kids have endless fun, and parents and teachers have piece of mind. All Do A Dot Art markers are GLUTEN FREE and LATEX FREE.
NO SPILL BOTTLES - Just like no spill cups for clean painting, Do A Dot Art markers make painting clean and easy. Just twist off the cap and let the fun begin!
Age 3+