Home

/

Redcat FiftyNine RC Car - 1:10 1959 Chevrolet Impala Lowrider Blue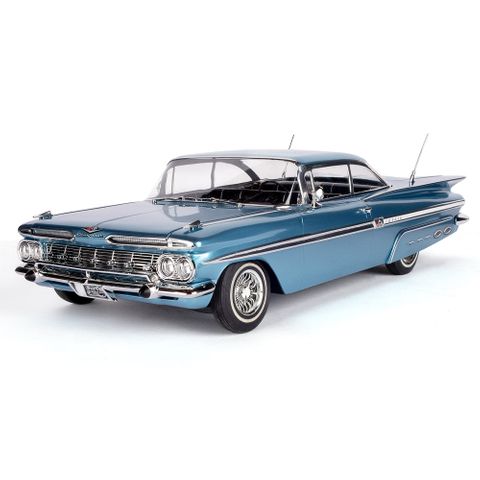 Redcat FiftyNine RC Car - 1:10 1959 Chevrolet Impala Lowrider Blue
RCATFIFTYNINE
Stock Level:
Out of Stock
Description
Redcat FiftyNine Classic Edition RC Car - 1:10 1959 Chevrolet Impala Hopping Lowrider
1959 Chevrolet Impala - Fully Functional Hopping Lowrider - Classic Edition.
Beautiful curves and sweet lines are what make the FiftyNine an absolute work of art. It does not get any more classic than the 1959 Chevrolet Impala's bat wing rear fenders, cat's eye taillights and beautiful chrome trim package.
A detailed undercarriage with boxed crossmember frame rails, detailed floor pans, realistic exhaust, faux transmission, rear solid axle with removable differential cover and independent front suspension ensure the FiftyNine looks just as good performing tricks as it does displayed on a mirror.
Slow cruising in style, hopping for the crowd or rolling on three, it's all possible with the FiftyNine's specially designed simulated hydraulic suspension. Using specialty servos and precision weight bias, the FiftyNine replicates the driving style and overall look of a full-size hopping lowrider.
The included LR6X transmitter's lowrider style switches, levers and buttons provide an authentic lowrider experience. Use the levers to individually raise and lower each of the three height adjustment servos or drop and extend the entire front or rear of the car with momentary buttons and switches. Slam the body for slow cruising, ride on three or hop for the crowd, it's all possible with the FiftyNine. If you time the switches just right while hopping, you can proudly stand the FiftyNine up on its bumper and rear tires.
The Redcat FiftyNine comes in either Blue or Titanium giving the 1959 Chevrolet Impala a showroom worthy appearance. Fully painted optional rear fender skirts included.
Vehicle Features
Officially licensed and highly detailed 1959 Chevrolet Impala body
Scale 14 in spoked wheels
Detailed chrome injection molded trim
LED light kit ready
Mechanical Features
Patented vehicle hopping system – U.S. Patent No. 11,083,973
Real-time adjustable ride height
Ultra fast custom made REEFS RC Hopping Servo
Two 25KG rear axle height adjustment servos
Radio Features
6-Channel LR6X Radio control with lowrider style switches
Individual switches for each of the 3 height adjustment servos
Momentary switches for raising either the front or rear to max ride height / hopping
Momentary buttons for lowering either the front or rear to minimum ride height
Needed to Complete
AA Batteries for the radio
Chevrolet, Impala, all related emblems, and vehicle body designs are General Motors Trademarks used under license to Redcat Racing